Birthday Wishes
Ive had a nice birthday today. Most of the day was spent just being lazy. Something I needed, and long over due. I am really tired tonight though. I think sometimes when I get a day off my body realizes just how tired I am and it crashes. I'm yawning and it is only a little after 9 p.m.
My husband and I didn't make any plans for today, we are going to try and do something special later for my birthday. We have been talking about a puppy, but it will be at lest the end of the year before we can do that. I
might
go look at birds and if we find one I like that will be my gift from the hubby. I have two cats now, so a bird is something I have hesitated on, but a lady came in the store this week with four beautiful Parrotlets.
Photo
stolen
borrowed from the web
I had never seen them before. They are the worlds smallest parrot. They can learn to talk, but they do not scream, and from what I understand as far as birds go, they make good pets. Anyway we will see how it goes.
As for the rest of the birthday I got spoiled. My ex invited us to his house for dinner. Ragu over shells. Yummy. After we had birthday cake and ice cream.
He gave me a dozen long stem peach color roses, which was very sweet of him. I took the photo next to our pumpkin, so you can see the true color of the flowers.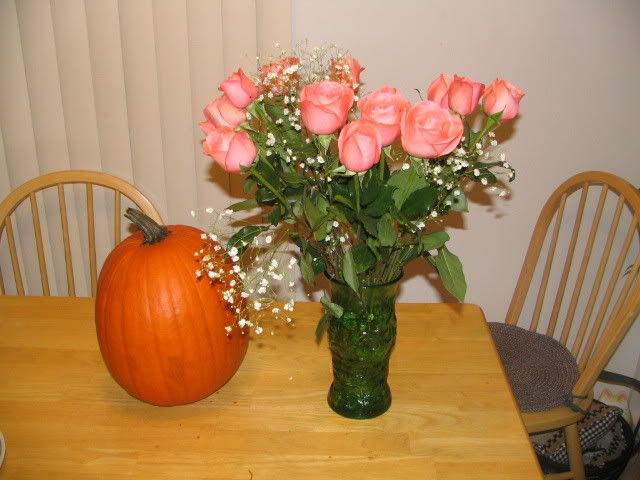 . My daughters boyfriend was the surprise of the night. He walked in with a big box and inside was this
She came from a store at the Williamsburg Pottery Factory. I had seen her there about 4 or 5 months ago, and like them (they had several in different designs) at the time. The lady in the shop told me that they were Goddess Dolls and that they were from Greece.
Her dress is made of a sheer fabric and when unfolded reaches almost to the ground from arms length. Of course with the cats I don't dare leave it down. I have her hung up high on the wall and the fabric tucked behind her.
Here is a close up of her face and flowers
Unfortunalty the doll did not come with any kind of card or information, so I am not sure who made her or if she had a name. I am guessing she would represent the Goddess of Spring. Any one have any ideas?
Anyway it was a good day. Thanks to all of you who sent me birthday wishes
Labels: Family Life, Photos, Random Thoughts