Weekend Review
I can't believe how fast the weekend zipped by. Yesterday morning started off with me taking Molly to the vet for her shots. When we arrived the line was out the door. Thankfully since I work at the pet store and know everyone they got me in with in a few mintues and I didn't have to wait long. Of course it was just long enough that I got to see a group of pug puppies who were waiting. That encounter has given me second thoughts about the Yorkie I mentioned in a previous post, and I am thinking hmmm, a pug would be nice. Anyway, once I left there my husband, daughter and myself went by the local SPCA to check out the pets. They didn't have a lot of dogs (which was good), but we walked through just the same. They did have some adorable kittens, and I made a mental note of them so I can tell my customers that come in and ask about cats.
We left there and headed out to the local flea market which turned out to be a waste of time. We didn't find a thing except a pack of diapers that someone had never opened so we snatched them up since they were only asking ten bucks.. and that is cheaper than the stores around here
We also ate lunch at Captain D's which was a treat. We don't go there often since it was about 15 minutes from home. My daughter and I were still in a shopping mood so we dropped the hubby off at the house and headed back out to the thrift stores. I did catch one bargain there, finding a cat tree for $19.99.
We carry the same one at work for 60 dollars. Maggie (my calico) took right to it and is sleeping on it as I write this. Molly (the little black and white one) hasn't paid much attention to it, even though I loaded it with catnip to entice them both to it.
My husband and I went out alone to dinner last night. We went to Golden Correl, which is my favorite place to eat, then went to block buster and rented a movie. We got Flight Plan, staring Jodi Foster. If you haven't seen it don't bother. We weren't impressed.
Today found the hubby and I in Williamsburg.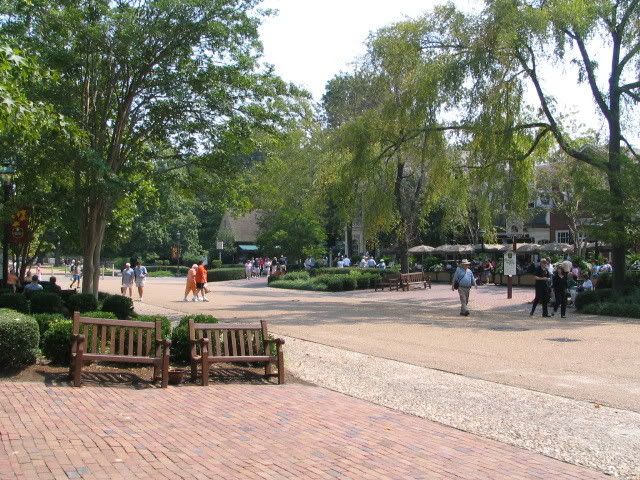 We just walked around going in and out of the shops for awhile then headed back in the opposite direction and went to Hampton. We happened upon a Books A Million but I didn't find anything I wanted. I really have enough books already. Right now I am reading Nora Roberts new one. "Morrigan's Cross" It is the first in a new trilogy.
We met back up at the house with my daughter and her boyfriend who were waiting for my grandson to get home from his dads house. Did I tell you my daughter had a boyfriend. Well she does, and I have my fingers crossed that he is Mr. Right. so far so good. He treats her really good, and loves the baby, has a home, a job and a car, so until he does something to prove other wise he has my vote.
My ex was cooking spaghetti tonight and he invited us over to eat tonight. As you can tell it is my grandsons favorites, so we took him up on the invitation
I brought dessert..Home made ice cream. I had bought the freezer earlier in the summer but this is the first time I had used it.
The ex still isn't feeling well since his heart attack. I think I forgot to mention he had been out of town. His step dad died last week and the ex flew to Texas for his funeral. The step dad and I had our differences over the years, but I was his daughter in law for over 20 years so I feel sadness at his passing..
Anyway as you can tell from the length of this post I haven't had much time to really relax. Next week brings work and on Wed. my daughter goes back to court for the final hearing on her custody of my grandson. I will keep you up to date.
Labels: Family Life, Photos, Random Thoughts